Safe Deposit Boxes
From Guardian Vaults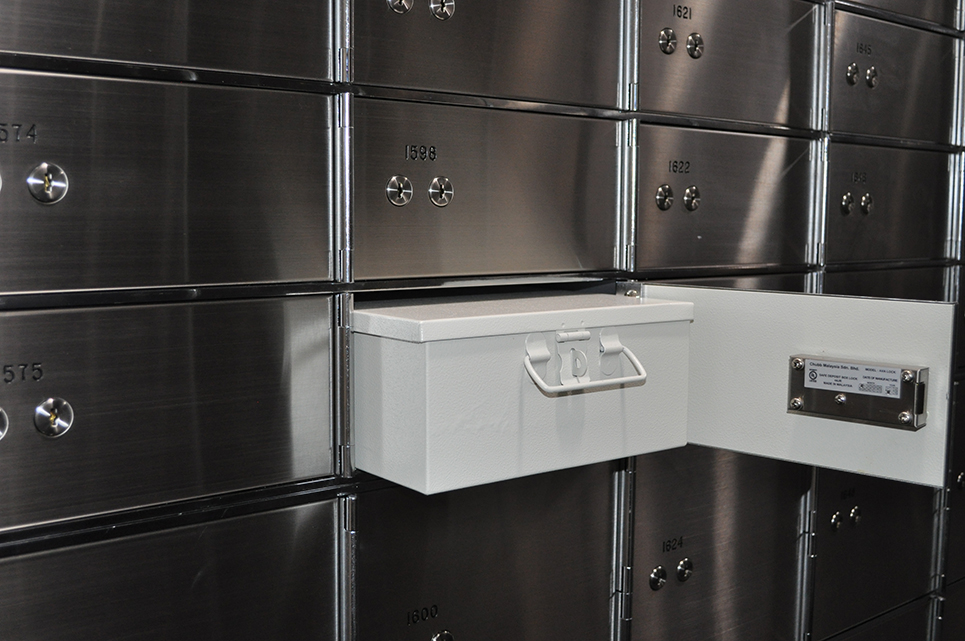 What can I store in a safe deposit box?
Food is placed in a refrigerator, to keep cool and fresh.
Clothes are placed into a wardrobe to stay pressed and organised.
All of our items have their place to keep them from getting damaged, staying organised and to make sure they don't get misplaced – ease of locating them when the time comes to use them is essential. However when it comes to items most precious to us, there is a conflict between wanting to keep the items close, even if that isn't the most secure method.
Where do you place your sentimental items? Your valuables? Your jewellery and important documents? Some valuables are impossible to consider losing, there is no alternative or replacement suitable. For those items a Safe Deposit Box is a popular choice.
We often hear that our clients, prior to using Guardian Vaults, used to put all of these items under a mattress, under their house in the dirt, hidden behind a cupboard getting dusty and damaged or stored somewhere within their study. It's for these reasons that a Safe Deposit Box has become an everyday item. It's a safe and hassle-free solution to securely and safely storing important lifestyle items that can't be replaced, or need to be protected from fire and water damage or theft.
It costs less than a gym membership per week and gives you piece of mind for all the times you wonder – "What if?" Our smallest Safe Deposit Box is 8cm x 14cm x 56cm and is perfect for all the necessities such as currency, passports, gold, jewellery and precious photos.
Some valuables are impossible to consider losing
Typical items you can store in a safe deposit box at Guardian Vaults include:
Silver
Coins
Property Titles
Diamonds
Engagement Rings
Passports
Birth and Marriage Certificates
War Medals
Backup Drives for office, business or personal use
Collectables
Investment
Sentimental Photographs
Currency
Insurance Policies
Wills
Stock/Bond certificates
You can view our safe deposit boxes and sizes here.
If you need some extra piece of mind or simply need to store valuables whilst you travel, renovate or rent your home then come visit us – our friendly staff will be able to help you gain a little more control in your life.
Contact a Guardian Vaults consultant here to explore short or long term leasing options for your valuables.
Disclaimers: Guardian Vaults Holdings Pty Ltd, Registered Office, Scottish House, 100 William Street, Melbourne, Victoria, 3000. ACN 138618176 ("Guardian Vaults") All rights reserved. Any reproduction, copying, or redistribution, in whole or in part, is prohibited without written permission from the publisher and/or the author. Information contained herein is believed to be reliable, but its accuracy cannot be guaranteed. It is not designed to meet your personal situation. Guardian Vaults, its officers, agents, representatives and employees do not hold an Australian Financial Services License (AFSL), are not an authorised representative of an AFSL and otherwise are not qualified to provide you with advice of any kind in relation to financial products. If you require advice about a financial product, you should contact a properly licensed or authorised financial advisor. The information is indicative and general in nature only and is prepared for information purposes only and does not purport to contain all matters relevant to any particular investment. Subject to any terms implied by law and which cannot be excluded, Guardian Vaults, shall not be liable for any errors, omissions, defects or misrepresentations (including by reasons of negligence, negligent misstatement or otherwise) or for any loss or damage (direct or indirect) suffered by persons who use or rely on such information. The opinions expressed herein are those of the publisher and/or the author and may not be representative of the opinions of Guardian Vaults, its officers, agents, representatives and employees. Such information does not take into account the particular circumstances, investment objectives and needs for investment of any person, or purport to be comprehensive or constitute investment or financial product advice and should not be relied upon as such. Past performance is not indicative of future results. Due to various factors, including changing market conditions and/or laws the content may no longer be reflective of current opinions or positions. You should seek professional advice before you decide to invest or consider any action based on the information provided. If you do not agree with any of the above disclaimers, you should immediately cease viewing or making use of any of the information provided.