Safe Deposit Boxes
From Guardian Vaults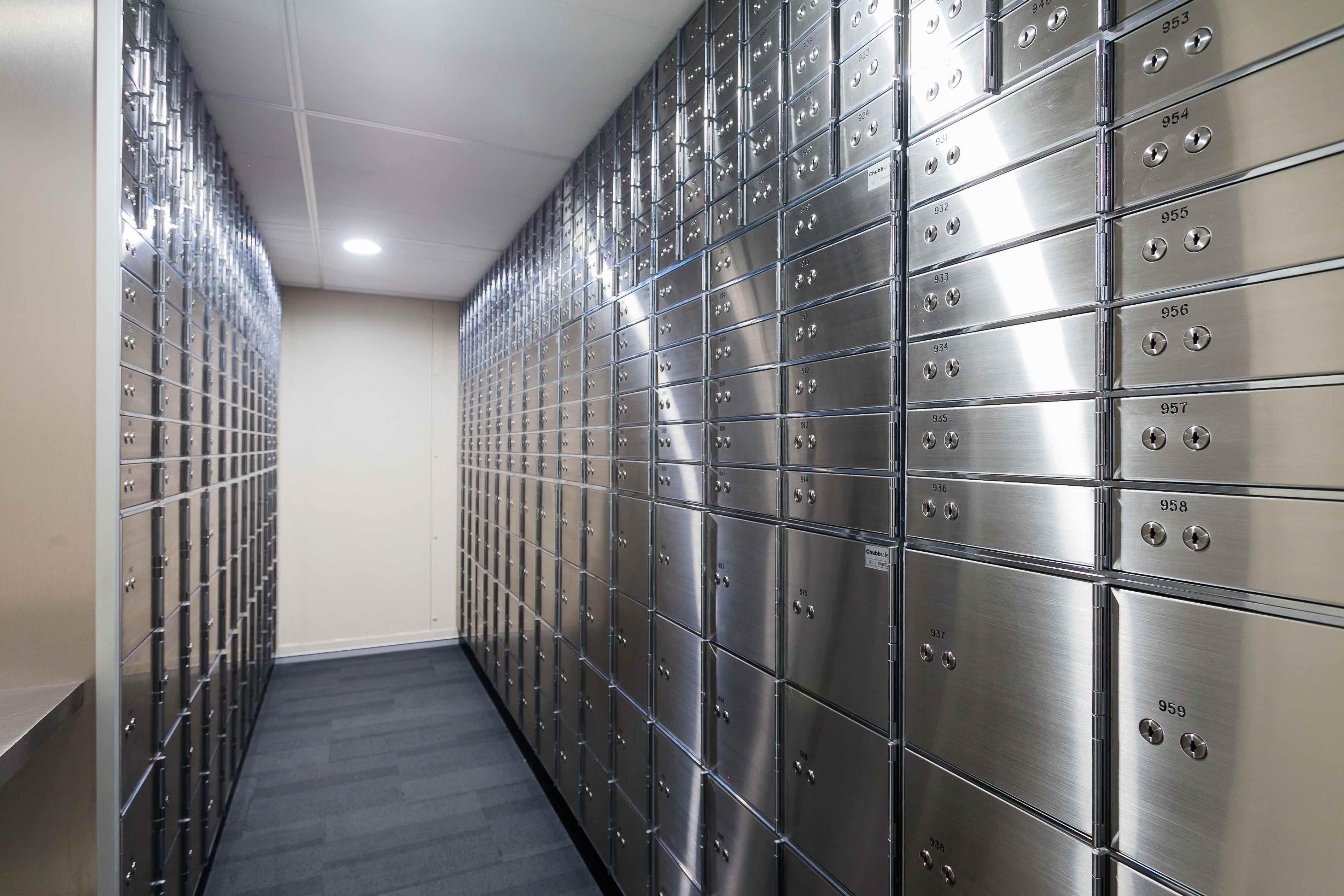 What size safe deposit box do I need?
Once you've made the decision to use a safe deposit box to store your treasured belongings, the next thing to consider is what size you'll need.
At our Guardian Vaults facilities in Sydney and Melbourne, we offer four different safe deposit box sizes – small, medium, large and extra large. In each case, the box is 56cm long, slotting into the wall of the secure vault.
The small option is slim and shallow, measuring 14cm wide and 8cm high. This is a good size for storing small family heirlooms, passports, engagement rings and medals. If you're storing gold or silver, this option will hold up to 90oz of gold coins or twenty-two 1kg silver bars.
The medium option is the same height as the small box, but twice as wide. This makes it a great size for storing documents like birth and marriage certificates that you don't want scrolled or folded, photographs, and larger jewellery pieces. It will hold up to twenty-five 20oz gold and silver coin tubes.
The large safe deposit box provides more depth and width, ideal for storing reasonably large items, provided they aren't too tall. This is a great option for storing bigger stacks of important documents, valuable items like gold candlesticks, and expensive collectors' items. It can also hold up to forty 1kg silver bars or thirteen 100oz silver bars.
The largest safe deposit box we offer provides enough storage space to accommodate bigger items including sizeable heirlooms, vintage designer fashion pieces and small works of art. It can also hold a 1,000oz silver bar or sixty-four 20oz gold and silver coin tubes.
Which option you select will naturally come down to what you plan to put in your safe deposit box. Remember to consider what you might be adding to your safe deposit box in the near future, to avoid running out of space. If you do find that you need more room, you can always upgrade to a larger size.
Still unsure about which size is right for you? Talk to one of our experts at Guardian Vaults by contacting us today.
Disclaimers: Guardian Vaults Holdings Pty Ltd, Registered Office, Scottish House, 100 William Street, Melbourne, Victoria, 3000. ACN 138618176 ("Guardian Vaults") All rights reserved. Any reproduction, copying, or redistribution, in whole or in part, is prohibited without written permission from the publisher and/or the author. Information contained herein is believed to be reliable, but its accuracy cannot be guaranteed. It is not designed to meet your personal situation. Guardian Vaults, its officers, agents, representatives and employees do not hold an Australian Financial Services License (AFSL), are not an authorised representative of an AFSL and otherwise are not qualified to provide you with advice of any kind in relation to financial products. If you require advice about a financial product, you should contact a properly licensed or authorised financial advisor. The information is indicative and general in nature only and is prepared for information purposes only and does not purport to contain all matters relevant to any particular investment. Subject to any terms implied by law and which cannot be excluded, Guardian Vaults, shall not be liable for any errors, omissions, defects or misrepresentations (including by reasons of negligence, negligent misstatement or otherwise) or for any loss or damage (direct or indirect) suffered by persons who use or rely on such information. The opinions expressed herein are those of the publisher and/or the author and may not be representative of the opinions of Guardian Vaults, its officers, agents, representatives and employees. Such information does not take into account the particular circumstances, investment objectives and needs for investment of any person, or purport to be comprehensive or constitute investment or financial product advice and should not be relied upon as such. Past performance is not indicative of future results. Due to various factors, including changing market conditions and/or laws the content may no longer be reflective of current opinions or positions. You should seek professional advice before you decide to invest or consider any action based on the information provided. If you do not agree with any of the above disclaimers, you should immediately cease viewing or making use of any of the information provided.