Please provide your details to reserve space at Guardian Vaults.
Please provide your details to reserve space at Guardian Vaults.
Please provide your details to reserve space at Guardian Vaults.
Please provide your details to reserve space at Guardian Vaults.
Please provide your details to reserve space at Guardian Vaults.
Safe Deposit Boxes
From Guardian Vaults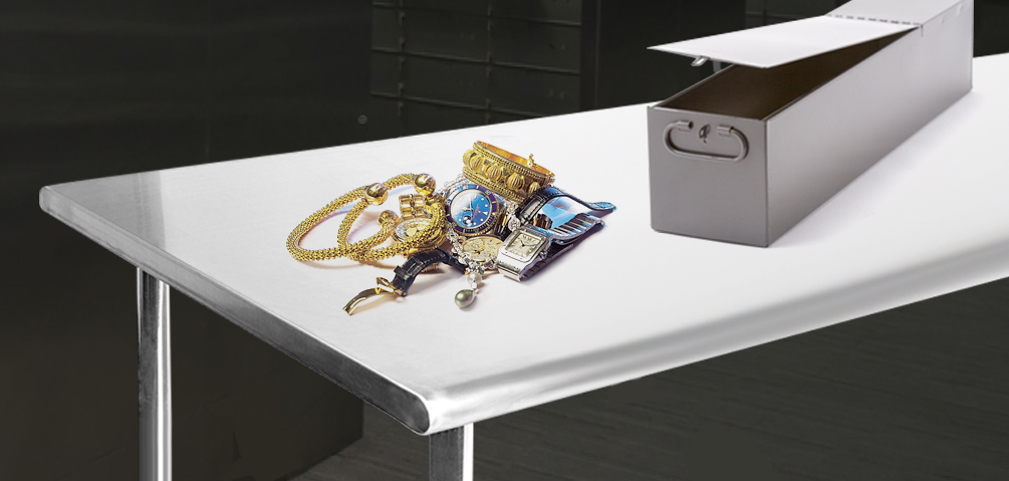 jewellery safe deposit box- Why Have One?
It's not just jewelry to you. It's memories. It's your past, pieces handed down through generations. That gold necklace from your grandmother, the one you store in your home safe and insure, might have a specific value according to that insurance policy but, in reality, is entirely irreplaceable and beyond value.
The Issues With Jewelry Home Storage
While there are adequate home security solutions for the jewelry you place so much personal value in, those solutions come at a price. Besides the obvious costs of a reliable, technologically advanced home safe and insurance policy, storing your valuables in your home exposes you to risk of intrusion and theft. No matter how impenetrable that safe or thorough that insurance policy, neither can give you the peace of mind that off-site, absolutely secure storage answers can provide.
A Better Way
Old fashioned solutions don't always work well in this fast-paced, complicated world. Although a home safe might have been the preferred method to store your jewelry decades ago, Guardian Vaults now offers you a better way. Using a state of the art facility to provide you the best in secure jewellery storage measures, Guardian Vaults also gives you the convenience you need for a busy lifestyle.
Our family friendly security answers to your irreplaceable jewellery and valuables — and the memories they hold within them — can provide keys to additional family members and feature a comfortable client lounge. In terms of cost efficiency, you'll be surprised by the affordability of Guardian Vaults and our storage options. In fact, after a comprehensive study into Australia's ten largest insurers, our storage prices tend to be lower than the average cost to add your jewellery to a home and contents policy.
Final Word
There's no substitute for memories and tradition. What others might see as pieces of jewellery are irreplaceable heirlooms to you. Don't entrust your jewellery with outdated home solutions that are often more expensive, afford less security, and make your home and loved ones more susceptible to danger. With three convenient locations, advanced and secure jewellery storage solutions, and the convenience you need, Guardian Vaults is the better way.
Disclaimers: Guardian Vaults Holdings Pty Ltd, Registered Office, Scottish House, 100 William Street, Melbourne, Victoria, 3000. ACN 138618176 ("Guardian Vaults") All rights reserved. Any reproduction, copying, or redistribution, in whole or in part, is prohibited without written permission from the publisher and/or the author. Information contained herein is believed to be reliable, but its accuracy cannot be guaranteed. It is not designed to meet your personal situation. Guardian Vaults, its officers, agents, representatives and employees do not hold an Australian Financial Services License (AFSL), are not an authorised representative of an AFSL and otherwise are not qualified to provide you with advice of any kind in relation to financial products. If you require advice about a financial product, you should contact a properly licensed or authorised financial advisor. The information is indicative and general in nature only and is prepared for information purposes only and does not purport to contain all matters relevant to any particular investment. Subject to any terms implied by law and which cannot be excluded, Guardian Vaults, shall not be liable for any errors, omissions, defects or misrepresentations (including by reasons of negligence, negligent misstatement or otherwise) or for any loss or damage (direct or indirect) suffered by persons who use or rely on such information. The opinions expressed herein are those of the publisher and/or the author and may not be representative of the opinions of Guardian Vaults, its officers, agents, representatives and employees. Such information does not take into account the particular circumstances, investment objectives and needs for investment of any person, or purport to be comprehensive or constitute investment or financial product advice and should not be relied upon as such. Past performance is not indicative of future results. Due to various factors, including changing market conditions and/or laws the content may no longer be reflective of current opinions or positions. You should seek professional advice before you decide to invest or consider any action based on the information provided. If you do not agree with any of the above disclaimers, you should immediately cease viewing or making use of any of the information provided.