Gold and Silver News
From Guardian Vaults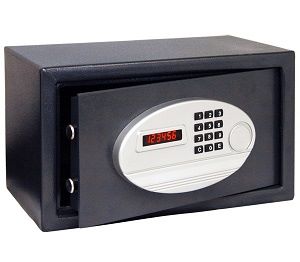 Fireproof Safes- What to know and look for when buying one
Australian consumers understand the importance of protecting their valuables. Based on data from Google, an estimated 1 million people search for home safes every year. These homeowners want to protect their valuables from all possible risks.
Home safes were originally designed to prevent theft. However, most Australian homeowners recognise that the possibility of a burglary isn't the biggest threat they face. People are more likely to lose their possessions in a fire than a burglary.
Fireproof safes were invented to address this risk. There are a number of fireproof safes on the market. It is important to make an informed decision because cost-effectiveness and reliability vary by brand.
The following factors must be taken into consideration when selecting a fireproof safe.
Ability to withstand intense temperatures
The average home fire has a temperature of around 600°C. Since some fires are hotter than this, most experts agree that it is important to have a home safe that can survive a temperature of at least 843°C.
The majority of fireproof safes are able to survive these temperatures. However, they don't necessarily protect the contents. Documents stored in the safes can combust at temperatures of 177°C or higher.If you are storing a flash drive, DVD or other electronic devices, they could be damaged if the temperature exceeds 52°C.
Make sure the safe is properly insulated so your contents won't be destroyed in a fire. Every safe has a different internal temperature rating. You need to find one that is appropriate for the types of content you will be storing.
Industry testing authorities provide a number of different ratings to help you choose the right fireproof safe. These ratings include:
The amount of time that the safe can survive exposure to a fire
The level of impact stress a safe can withstand during a fire
The type of explosion that the safe can survive
You will need to consider the different scenarios that can arise before selecting a safe. Prices vary, but most fireproof safes cost between $3,000 and $5,000. The GDF ES1200 is a mid-tier fireproof safe that costs $3,495.

Cash rating of the safe
While fireproof safes are designed to prevent fire damage, burglary and other risks are also factors of consideration. Higher quality safes are more trusted by people that need to protect more valuable contents. Each safe has a cash rating, which helps homeowners decide whether it is worth the investment. If you need to store very valuable content, such as jewellery or the deed to properties that you own, you may want to invest in a safe with a $20,000 cash rating rather than one with a $5,000 cash rating.
Industry testing authorities assign cash ratings to different safes. Compare them carefully before making a selection.
Waterproof
The risk of flooding is also a concern for Australian homeowners. In fact, flood risk is a serious issue for many Aussie homes. Over 1.3 million Australian homes have a flood risk rating.
The good news is that most fireproof safes are also flood resistant. However, it is still a good idea to compare water protection ratings on each safe before making an investment. If you live in an area with a high flood risk, it is a good idea to buy a highly waterproof safe.
Know your options
Storing your valuables in a highly rated safe is important. However, you may feel that paying for a valuable safe is too expensive. Don't worry – there are other options.
You can also choose to rent a safe in an offsite storage facility such as Guardian Vaults. There are two benefits of this option. First of all, you won't need to pay a large upfront fee. Also, you will have the added protection of keeping your safe in a highly secure premise, giving you confidence that your valuables are protected.

Disclaimers: Guardian Vaults Holdings Pty Ltd, Registered Office, Scottish House, 100 William Street, Melbourne, Victoria, 3000. ACN 138618176 ("Guardian Vaults") All rights reserved. Any reproduction, copying, or redistribution, in whole or in part, is prohibited without written permission from the publisher and/or the author. Information contained herein is believed to be reliable, but its accuracy cannot be guaranteed. It is not designed to meet your personal situation. Guardian Vaults, its officers, agents, representatives and employees do not hold an Australian Financial Services License (AFSL), are not an authorised representative of an AFSL and otherwise are not qualified to provide you with advice of any kind in relation to financial products. If you require advice about a financial product, you should contact a properly licensed or authorised financial advisor. The information is indicative and general in nature only and is prepared for information purposes only and does not purport to contain all matters relevant to any particular investment. Subject to any terms implied by law and which cannot be excluded, Guardian Vaults, shall not be liable for any errors, omissions, defects or misrepresentations (including by reasons of negligence, negligent misstatement or otherwise) or for any loss or damage (direct or indirect) suffered by persons who use or rely on such information. The opinions expressed herein are those of the publisher and/or the author and may not be representative of the opinions of Guardian Vaults, its officers, agents, representatives and employees. Such information does not take into account the particular circumstances, investment objectives and needs for investment of any person, or purport to be comprehensive or constitute investment or financial product advice and should not be relied upon as such. Past performance is not indicative of future results. Due to various factors, including changing market conditions and/or laws the content may no longer be reflective of current opinions or positions. You should seek professional advice before you decide to invest or consider any action based on the information provided. If you do not agree with any of the above disclaimers, you should immediately cease viewing or making use of any of the information provided.