Please provide your details to reserve space at Guardian Vaults.
Please provide your details to reserve space at Guardian Vaults.
Please provide your details to reserve space at Guardian Vaults.
Please provide your details to reserve space at Guardian Vaults.
Please provide your details to reserve space at Guardian Vaults.
Gold and Silver News
From Guardian Vaults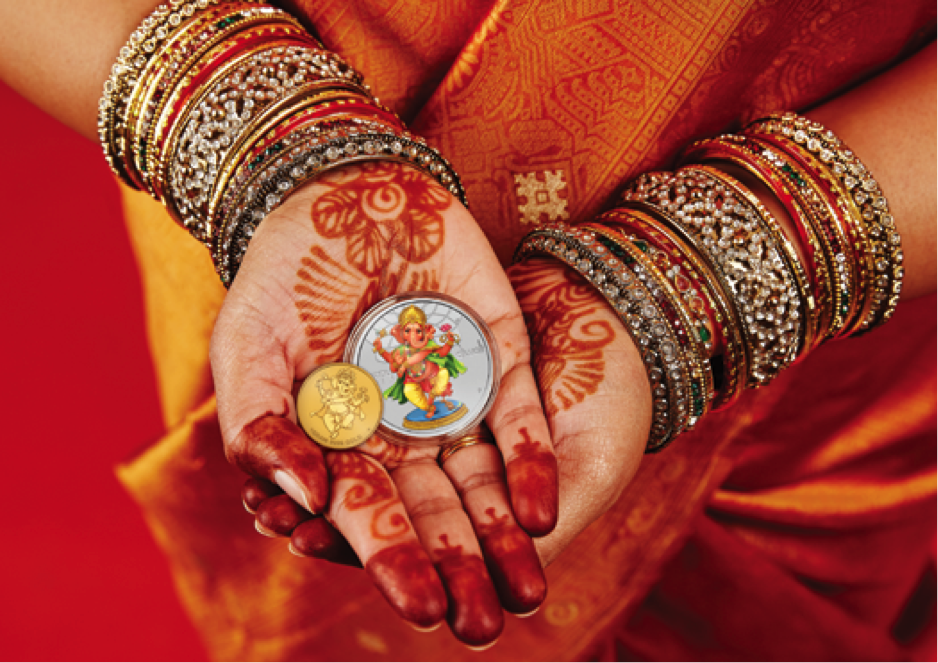 Celebrate Diwali with our Special Diwali Edition Gold & Silver Coins
This year Diwali falls on Saturday 14th November. With the promise of plenty of delicious food, family time and fun, the buying of gold and silver will as always be a prominent theme in the festivities.
The importance of gold at Diwali
Diwali is known as the Festival of Lights. It came about over the centuries thanks to the legend in Hindu culture that the son of King Hima was supposed to be killed by a bite from a venomous snake on the 4th day of his marriage. Legend has it that the only way he survived a slow and painful death was because his wife heaped up all the family gold she could find outside the door. According to the story, the snake became so dazzled by the gold that he couldn't get to the prince to bite and therefore slithered away.
This is why gold holds such importance at Diwali, symbolising wealth, hope and luck. Gold and Silver coins, bars and other gift are exchanged between loved ones in remembrance of the son of King Hima and the gold barrier his wife made to save his life.
______________________________________________________
DOWNLOAD OUR GUIDE TO PHYSICAL GOLD INVESTMENT & STORAGE
______________________________________________________
The five days of Diwali
The Diwali festival is over five days, with Diwali itself being on day 3. So, the days and dates in 2020 are:
• Day One (November 12,2020) – Dhanteras (Day of fortune)
• Day Two (November 13, 2020) – Naraka Chaturdasi (Day of knowledge)
• Day Three (November 14, 2020) – Diwali (Day of light) & Lakshmi Puja
• Day Four (November 15, 2020) – Annakut (New Year)
• Day Five (November 16, 2020) – Bhai Duj (Day of love between siblings)
During recent years, gold has become the investment of choice for many families all year round, not just at Diwali time. High-value investment items such as gold and silver coins, bullions and bars have increased in popularity and it's not hard to see why. Although there is a massive cultural attachment to gold within the Hindu religion, there are shrewd financial gains too.
This is undoubtedly because gold retains its value very well in an ever-changing national currency market. By default, gold is seen as less of a wealthy luxury for the elite but instead as an essential financial security for everyone.
Investment and protection
When global economies and currencies are more and more unpredictable in a world that seems to lurch from one financial crash to the next, and with the recent pandemic situation, the price of gold has steadily increased. The purchase of gold and silver bullions has increasingly become a prudent and financially reliable way to save for the future. Diwali celebrations offer the ideal time to make the investment.
The best time to Invest in precious metals is NOW
With this in mind, if you've decided to purchase gold for Diwali this year, either as a present for a loved one or as a sound financial investment, then you have come to the right place at Guardian Gold. Guardian Gold has some limited special edition Gold and Silver coins and bars with the Diwali theme.
Invest with Physical Gold today
If you're interested in buying gold coins or bullion the good news is you've come to the right place. Please feel free to browse our Diwali special edition selection, in particular, these would make ideal gifts for loved ones at Diwali.
At Guardian Gold we are experts in all there is to know about gold and silver and can help with any aspects of your investment. Speak to our consultants today or drop us an email so we can help.
You can simply purchase our Diwali Special Editions Gold & Silver Coins and Bars and either collect or store these at our high-security facilities in Melbourne and Sydney.

With the availability of a diverse size range of Safe Deposit Boxes, to accommodate all secure storage needs, and a premium customer experience you can have complete peace of mind.
Unique to all, the Diwali Festival provides as a celebration seen around the world. For more information on how Guardian Vaults and Guardian Gold can assist in Diwali gifts, contact below.
Our team at Guardian Gold can help you with the investment today.
Click for more information on Diwali activities in Melbourne and Sydney
Disclaimers: Guardian Vaults Holdings Pty Ltd, Registered Office, Scottish House, 100 William Street, Melbourne, Victoria, 3000. ACN 138618176 ("Guardian Vaults") All rights reserved. Any reproduction, copying, or redistribution, in whole or in part, is prohibited without written permission from the publisher and/or the author. Information contained herein is believed to be reliable, but its accuracy cannot be guaranteed. It is not designed to meet your personal situation. Guardian Vaults, its officers, agents, representatives and employees do not hold an Australian Financial Services License (AFSL), are not an authorised representative of an AFSL and otherwise are not qualified to provide you with advice of any kind in relation to financial products. If you require advice about a financial product, you should contact a properly licensed or authorised financial advisor. The information is indicative and general in nature only and is prepared for information purposes only and does not purport to contain all matters relevant to any particular investment. Subject to any terms implied by law and which cannot be excluded, Guardian Vaults, shall not be liable for any errors, omissions, defects or misrepresentations (including by reasons of negligence, negligent misstatement or otherwise) or for any loss or damage (direct or indirect) suffered by persons who use or rely on such information. The opinions expressed herein are those of the publisher and/or the author and may not be representative of the opinions of Guardian Vaults, its officers, agents, representatives and employees. Such information does not take into account the particular circumstances, investment objectives and needs for investment of any person, or purport to be comprehensive or constitute investment or financial product advice and should not be relied upon as such. Past performance is not indicative of future results. Due to various factors, including changing market conditions and/or laws the content may no longer be reflective of current opinions or positions. You should seek professional advice before you decide to invest or consider any action based on the information provided. If you do not agree with any of the above disclaimers, you should immediately cease viewing or making use of any of the information provided.