Please provide your details to reserve space at Guardian Vaults.
Please provide your details to reserve space at Guardian Vaults.
Please provide your details to reserve space at Guardian Vaults.
Please provide your details to reserve space at Guardian Vaults.
Please provide your details to reserve space at Guardian Vaults.
Safe Deposit Boxes
From Guardian Vaults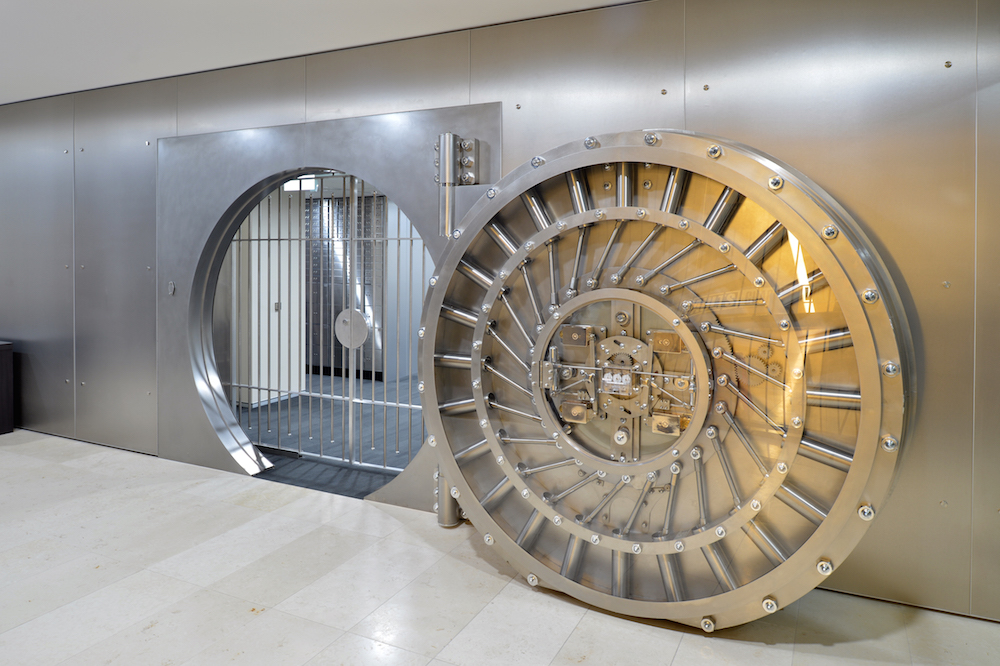 The benefits of safety deposit boxes and vaults
We all have possessions that are valuable or precious to us. Perhaps you have family heirlooms like jewellery, or you're considering buying gold coins or bullion.
When it comes to storing them you have two options — store in your home, or with a third party such as a bank or secure facility like Guardian Vaults.
Secure gold and silver bullion storage
When it comes to storing valuables and precious metals at home there are plenty of home safes on the market, with varying degrees of security. The problem is, whilst your items may be close at hand, they will never be as secure as in a vault built for the purpose.
With many banks ending their vault services due to ongoing costs, that leaves an independent storage solution as the best option. And the levels of security in place at leading storage facilities like Guardian Vaults really make a difference to your peace of mind.
To begin with, nobody gets in or out of our facilities without being identified. Every customer has to supply full personal details and is subject to biometric hand scanning, visual identification and pin code security.
Our facilities feature the highest UL3 rated vault doors and Grade X11 rated vault walls, all under the constant watch of on-site security guards. And they're completely covered by 24/7 video surveillance which is independently monitored.
Add to this the seismic detectors and infrared sensors and you start to appreciate just how safe your gold, silver or precious items are when you store them at Guardian Vaults. You really can store and forget.
On top of all this cutting edge security, everything stored at Guardian Vaults can be fully insured, something that is difficult and expensive if storing precious metals at home.
Adding to your storage
Many people, once they take out storage for one particular item, find it's actually convenient to use that storage for other things. When you start to think about other valuable or sentimental items hidden around your house, it makes sense to add them to your storage unit if you're already paying for one.
In addition, should you decide to increase your investment with more bullion or coins, it's a simple matter of upgrading to a larger safety deposit box or secure bullion vault and transferring from one to the other without leaving the building — again, there's nothing like peace of mind that your investment is in safe hands.
Guardian Vaults has facilities in Melbourne and Sydney that have been purpose-built to offer the latest security measures. Call us for a chat about your storage needs or buying gold.
Disclaimers: Guardian Vaults Holdings Pty Ltd, Registered Office, Scottish House, 100 William Street, Melbourne, Victoria, 3000. ACN 138618176 ("Guardian Vaults") All rights reserved. Any reproduction, copying, or redistribution, in whole or in part, is prohibited without written permission from the publisher and/or the author. Information contained herein is believed to be reliable, but its accuracy cannot be guaranteed. It is not designed to meet your personal situation. Guardian Vaults, its officers, agents, representatives and employees do not hold an Australian Financial Services License (AFSL), are not an authorised representative of an AFSL and otherwise are not qualified to provide you with advice of any kind in relation to financial products. If you require advice about a financial product, you should contact a properly licensed or authorised financial advisor. The information is indicative and general in nature only and is prepared for information purposes only and does not purport to contain all matters relevant to any particular investment. Subject to any terms implied by law and which cannot be excluded, Guardian Vaults, shall not be liable for any errors, omissions, defects or misrepresentations (including by reasons of negligence, negligent misstatement or otherwise) or for any loss or damage (direct or indirect) suffered by persons who use or rely on such information. The opinions expressed herein are those of the publisher and/or the author and may not be representative of the opinions of Guardian Vaults, its officers, agents, representatives and employees. Such information does not take into account the particular circumstances, investment objectives and needs for investment of any person, or purport to be comprehensive or constitute investment or financial product advice and should not be relied upon as such. Past performance is not indicative of future results. Due to various factors, including changing market conditions and/or laws the content may no longer be reflective of current opinions or positions. You should seek professional advice before you decide to invest or consider any action based on the information provided. If you do not agree with any of the above disclaimers, you should immediately cease viewing or making use of any of the information provided.